Bluffpoint
GEOLOGY
Mineralization predominantly influenced by NE trending structures.
Granitoid hosted with variable phases.
Late felsic dykes delineating shear zones.
MINERALIZATION
Widespread gold mineralizing system
The known alteration/mineralized zone is approximately 165m wide and 700m long in altered granitoid rocks, and open in all directions (total extension undetermined).
Alteration: (pyrite, silica, hematite/magnetite, sericite)
Quartz veining, and local fracturing (brecciation).
Direct correlation between pyrite concentration and gold values.
Homestake Zone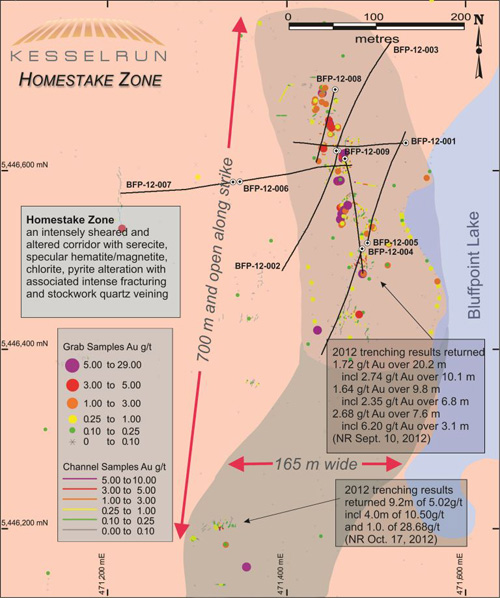 BFP 3D Model (Must open with Adobe Acrobat)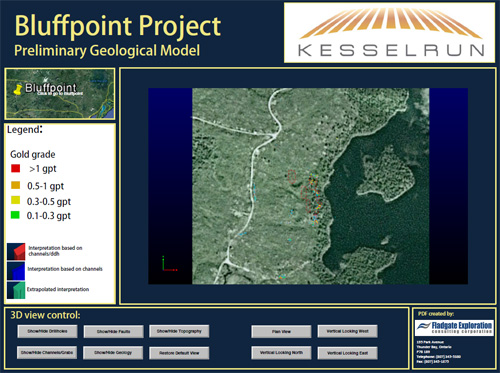 Significant Phase 1 Drilling Results
Hole ID

From
(m)

To
(m)

Length
(m)*

Weighted Grade Au
(g/t)

BFP-12-002

4.0

55.0

51.0

0.33

including

4.0

15.7

11.7

0.44

including

44.0

55.0

11.0

0.90

which includes

47.1

55.0

7.9

1.14

including

124.0

150.0

26.0

0.36

which includes

130.0

140.0

10.0

0.70

and which includes

130.0

136.0

6.0

0.86

BFP-12-003

1.0

9.0

8.0

0.34

BFP-12-009

24.7

86.0

61.3

0.41

including

53.3

75.0

21.7

0.91

which includes

62.7

77.0

14.3

1.24

and which includes

66.4

74.0

7.6

1.89

and

66.4

69.0

2.6

4.30

and

66.9

67.6

0.7

9.28
* length refers to drilled length; true widths have not been determined
Grab Sampling Compilation